TRANSIENS NOSTRUM project suggests the experience of loss as an ongoing process of life and proposes through a visual and sound installation, a poetic encounter with the multiple and often subtle nuances of this transformative procedure.
TRANSIENS NOSTRUM addresses people to face the sea, follow her move and merge with her vital endurance.
The project derives from the installation IN PRESENTIA by Christina Nakou & Anna Pangalou, exhibited in the Bastion of St George, in the Medieval Town of Rhodes, in July-September 2022. It is now developing as a circumnavigation alongside the Mediterranean.
TRANSIENS NOSTRUM unfolds as a sequel of presentations of the site-specific installation, reshaped every time according to the history and the architectural elements of the selected exhibition space. Water fluidity as a natural element that encapsulates withdrawal and emergence in a constant alternation, is the main axis of the artwork.
The project will unfold around the Mediterranean seeking to create a network of cultural events, art programs and performances that are focusing on the experience of loss and its transformative energy.
TRANSIENS NOSTRUM is performed and presented as a joint work by the two artists.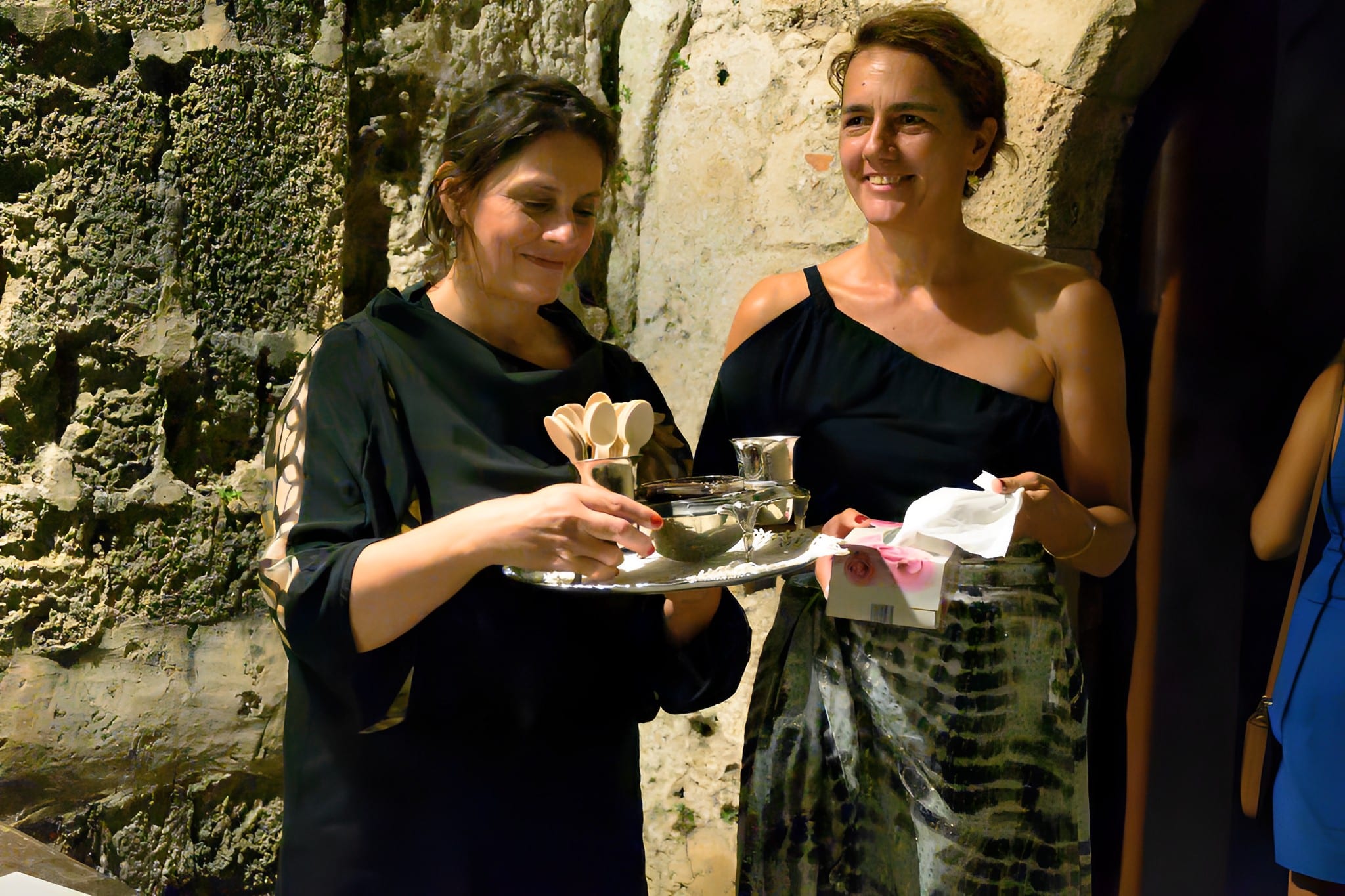 ANNA PANGALOU
Anna Pangalou is a voice soloist/performative artist of dark dramatic timbre, exploring the boundaries of classical vocal practices with the new forms created by experimental sound practices. She has studied classical singing in Cannes, Vienna, Rome, and Athens. She has received awards and scholarships, among others, by the Onassis Foundation, the Fulbright Foundation, and the International 'Dimitri Mitropoulos' singing competition. She has appeared as a soloist in Greece, Austria, Germany, Italy, France, Egypt, Turkey, and the United States, performing Opera, Lied, Oratorio, NewMusical Theatre, and Contemporary Music. She specializes in avantgarde and experimental contemporary music (Alvin Lucier, "So you," documenta 14, 2017/ Open Day, Onassis Stegi, 2012-2020/ Dimitris Kamarotos, "Suspended," Prometheus Bound, Stavros Niarchos Founda- tion Cultural Center, 2020-2021). Further, contemporary composers have written works for her voice. In the recent years, her forays into sound-scapes and acoustic ecology, with a focus on water and its various forms, have been presented as projects/compositions at sound installations. She seeks co-creating with artists and thinkers from disparate fields, exploring new paths of perception as an art form.
CHRISTINA NAKOU
Christina Nakou studied painting, mosaic, and sculpture at the Athens School of Fine Arts. She has shown her work in solo/group exhibitions, and art projects, in Greece, France, Spain, Germany, Belgium, Austria, and Italy. In addition to her body of work in painting, she has thoroughly researched the ancient mosaics across the Mediterranean region. Her work focuses on fluidity, materiality and light reflection, while proposing an interpretation of mosaics as a mapping of time. In 2021, she presented her mosaics at the archaeological site of Ancient Messene, in the form of a dialogue with the ancient monuments. As of 2013, she has been exploring the notion of the sea, as a natural representation of the infinite. Between 2009-2019, she designed and implemented original artistic educational programs for children and teenagers for the Benaki Museum, the Museum of Cycladic Art, the Embassy of Norway in Greece in accommodation facilities for unaccompanied refugee minors (EEA Grants), the Hill School, Art Athina, among other institutions. Her books are published in Greece by Agra Publications.